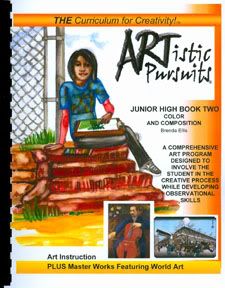 I jumped right into this with my 8th grader, Michaela. She has had some *bad* art experiences in life. When I pulled this out, she moaned and groaned and begged not to. I agreed with her, that we would do just the first two units, and then if she didn't want to continue, we wouldn't. After I did unit one with her, she has continued on to do unit two and says she will keep doing them. She enjoys them, and doesn't feel the pressure to be perfect. Of course, she is finally making art that looks like "art", which has boosted her self-esteem and she is proud of what she has done.
I would love to share with you her pastel picture she made of an elk, but I can't get my camera to upload to my computer. Just let me tell you, it's going to be framed and hung in our home.
The program doesn't just teach art, it teaches art history, art appreciation, techniques, and how to apply all of those things. Also, it helps the student to build a visual vocabulary.
The price for this book is $42.95. They also have books all the way from pre-school age to 12th grade. The books are non-consumable, which means that your family can use them over and over again. You can also buy the
art supply packs
to go along with the curriculum.
I received this product free of charge in exchange for an honest review as part of The Old Schoolhouse Review Crew. You can visit the blog by clicking the banner below, and read reviews of this product and others.