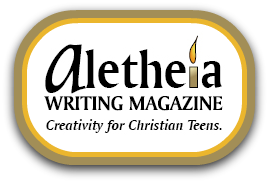 Aletheia Magazine
is a writing magazine, featuring the literary and other artistic works of Christian teens, ages 13-19. Aletheia is the greek word for "truth" or "unveiling".
This is what they have to say in their
"about us"
page of their website:
We are excited to offer Christian teens a healthy platform in which to express themselves, especially in a culture that so definitively shapes and saturates their worldview with unhealthy imagery and values.




Moreover, we're interested in publishing teen work in a quality manner while preserving its honesty and integrity- we're not interested in dumbing down or overly sanitizing the writing we receive.




But whether teens use their writing to explore the darker realities of life or celebrate the brighter ones, their writing, in the end, must contain hope.




In addition to the literary and artistic expressions of Christian teens, each issue offers a variety of unique features: a Writer's Challenge, the Featured Contributor, a book review, Glory to God for the Beauty of Nature, Ancient Ink, and an interview or other feature for edification and enjoyment.




*Aletheia Writing Magazine is geared toward youth ages 13 to 19. Because contributors' ages vary, the maturity level of situational content may likewise vary.
We received this magazine as part of the Old Schoolhouse Homeschool Crew, meaning we were provided with a copy of the magazine (and access to a digital issue also) in exchange for an honest review. I gave the magazine to the kids to read through and enjoy. Then I got feedback from them on their opinions. All three teens of mine had basically the same thing to say. They enjoyed the stories, pictures (artwork), and poems. They have even been brainstorming things to do so they can submit their own work for publication. They also request that we purchase a subscription. My daughter has a friend who comes from an agnostic family, and one day when she came to visit, she picked up Aletheia Writing Magazine, & this child really loved the magazine. I love that a child who has been raised to be un-accepting of anything with a Christian basis, jumped in and received a planting of a seed through the writings and artistic pursuits in the magazine, without the barriers she has been trained to construct. This was a direct reflection of the name of the magazine, bringing "truth" to a teen who has been taught to reject it before even receiving it.
A
subscription
to Aletheia Magazine is $26 for United States subscribers, and $29 for Canadian subscriptions. The price includes shipping & handling, and there are four issues a year, each 40 pages.
They even have a page on their website with
writing tips
and another page with a
writer's challenge
! Your teens can even submit their own work. Check it out!