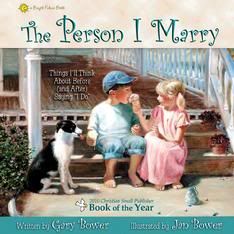 I am going to start out this review by telling you that this book,
"The Person I Marry"
, is a book I believe should be on every family's bookshelf. Society today has put a different definition on marriage, and has almost made a mockery of the sacred institution. That standard in today's society is not god enough for my family, and it is not good enough for God. Marriage is a beautiful gift given to us, and it is one that is to be taken seriously. This is the very accurate description they give of the book on their
website
:
Respect, kindness, honesty, faithfulness, thoughtfulness, patience - qualities like these make strong marriages

. Created by award-winning author & illustrator team




Gary & Jan Bower

(married 32 years),

this

adorable book warms the hearts of all ages in its celebration of

commitment

,

purity

&

true love

!
My children have talked about "when I grow up and get married" since they were tiny tots. Of course I have told them the importance of character when the time to court or date comes along. But, how do I reinforce that? What exactly are those character traits that will help to make a marriage stronger and align more clearly with the plan God set forth for marriages?
This book
"The Person I Marry"
, by Gary (Author) and Jan (Illustrator) Bower answers that question beautifully.
There's a Party in Heaven (for encouragement in times of loss)
The Person I Marry (looking for character traits in a mate)
There's a Jingle in my Pocket (dealing with money matters for children)
What do Heroes Wear (about serving others)
From the Author & Illustrator:
"The Person I Marry" has received wonderful endorsements from Gary Smalley, Eric & Leslie Ludy, and the Duggar Family. This book is part of our "Bright Future Series" which shares Biblical principles for families in beautiful and down-to-earth ways. The Person I Marry was awarded "2010 Book of the Year" by the Christian Small Publisher Association. We created this book the year of our 30th anniversary as a tool for tenderizing the hearts of our own 12 children, and sparking comfortable conversation about marriage amongst ourselves. We hope you like it!



Bower Books
has many other books available that I am sure are just as lovely. We have some on our shelves already, and after reading "The Person I Marry", we will be adding more.

Disclaimer: I received this product in exchange for an honest review. My favorable review was not a condition of this arrangement. For this review, and for other reviews of the same product and more, please visit the
Old Schoolhouse Homeschool Crew Review Blog
.