As a busy Mom, meal times have proven to be quite a challenge. We have had many days where we just ended up eating out (and I don't mean "fast food", as we don't really like it) or ordering pizza in. Sticking to a budget when you eat out too often is also a challenge. Continually this is an area where our family has struggled when it comes to staying within our means. It has been clear that it was time for a change, for some sort of way to make meal time easier, and also get our meal spending under control. Enter
E-mealz...
E-meals
is a company created by two Christian women, Jane DeLaney and Jenny Cochran. Jane and Jenny were busy mom's too, who saw a need to have a plan for meals and to also be frugal with that plan. With that goal in mind, they created the
E-Mealz
system. This is what they say about their plan:
Manage your food budget and enjoy delicious dinner recipes at home.




Menu plans based on weekly grocery store sales, seasonal discounts




or diet preferences. Be meal-wise and money-wise with E-Mealz.
e-mealz meal plans...
are written and created by REAL moms with REAL families

are balanced and family friendly

are as easy as possible, but delicious and kid tested!

consist of favorite recipes collected from hundred of moms

come with an organized, aisle by aisle grocery list

are for 4 to 6 people

are based on the current week sales at your grocery

are priced at approximately $75 per week

Two person plans average $35 total per week
E-Mealz is not only great for this reason alone, but it gets better. They have many different plans to chose from. Are you hesitant to look because you do not have a family to feed? Well, they have meal plans for two! They also have plans for 4-6 (which you can easily adjust yourself if you need even more). On addition to this, they have options that cater to special diets. What special diets do they have to choose from?
Gluten Free
Low Fat
Low Carb
Portion Control
Vegetarian
They also have plans for ANY grocery store, or more specialized plans from the following stores:
Wal-Mart
Aldi
Publix
Kroger
Ralphs (Ca)
Now, how does this all work?
You go to
e-mealz
and sign up for a subscription. The cost of subscription is $1.25 per week, and is billed in $15 increments every three months. You can also cancel your subscription at any time if it is not a good fit for your family. When you sign up, you pick which plan you think you want to use (you can switch later if you find it isn't fitting your needs, if your needs change, or if you just want to try another), then you pull up that weeks menu/grocery list, print it out, do your shopping and you are all prepared to fix your meals. How simple is that? It takes the stress out of menu planning, and grocery shopping lists, helps you stick to a budget, and allows you to focus on other important things.
This is a sample of a weekly meal pan/grocery list. (Click on it to be taken to a sample menu)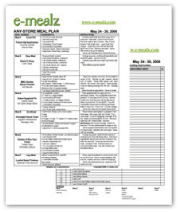 We have enjoyed using e-mealz, and will continue to subscribe even when our provided subscription runs out. Even so, I have created an e-mealz notebook where I print the menu and grocery list, and file them in order. This makes it easy for me to make notes about how my family liked the meal (loved, liked, and would prefer not to have again) and any changes I made or would like to make. I also love how on the grocery list it has space where you can add on the other groceries your family is going to need.
Our family does not eat much seafood, and sometimes the meal plans include meals with seafood ingredients. I have found it easy to substitute another protein in those instances (mostly chicken) and think it would be just as easy to substitute seafood for other ingredients if your family is one who does eat a lot of seafood. Also, sometimes there are meals I know my family will not enjoy. This is when I just cross it out and substitute a meal from my repertoire in or a past e-mealz meal that the family enjoyed.
Using e-mealz has exposed my family to boundless new recipes that we probably wouldn't have tried before. The ease of the meals is such that even my children can follow the directions and prepare dinner. That is an added bonus.
Whether you are cooking for one (get the meals for two, eat one serving for dinner, one for lunch the next day) or you are cooking for a couple, or you are cooking for a family...E-mealz will work for you. If you know someone who may struggle in this area, you can also give them a gift subscription.
I was provided a subscription to e-mealz free of charge in exchange for my honest review of the product. My favorable review was not a condition of this exchange, and all opinions are my own.