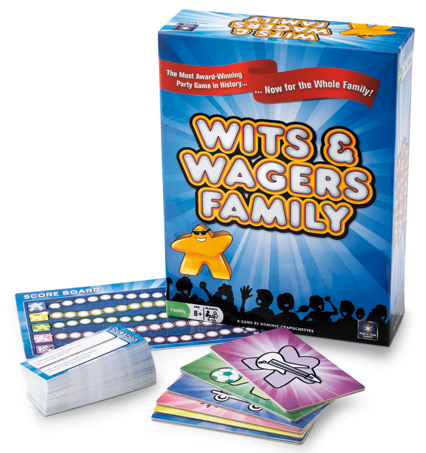 Wits & Wagers Family
is a product from North Star Games. It is a party style game, which can be played by individuals playing against one another, or up to 5 teams. It is a family friendly version of their game "Wits & Wagers". This is what North Star has to say about this game:



Wits & Wagers Family simplifies the rules and scoring system of the popular Wits & Wagers. Now families and kids can get into the Wits & Wagers action! First, every player writes down a guess to a fun question. Then players try to score points by choosing which guess is closest to the right answer without going over. That is it!

The game features 300 new family-friendly questions. And even better than that, Wits & Wagers Family includes Meeples-- fun, cute, human shaped wooden pieces that the players use to select which answers they think are correct. Meeples have been a hallmark in European style strategy games for years, but this is the first time they have made an appearance in a party game.

So check out Wits & Wagers Family, the game that combines laughter and learning in a way that all ages can enjoy together!

Our family loves to play games. We love this one especially. Everyone in the house can play, even the 6 year old. I mean, he can guess at things with the best of us! We like to pull it out in the evening after supper and have some bonding time over it. We also plan to take it to the deer lease with us to play with the other hunters & their families...it's just that fun!
This week we had our weekly homeschool group get together, and I took the game to see how the other kids & families felt about it. I also wanted to see how well it worked with teams vs. individuals. We got into 5 groups and competed against one another, and it was an absolute blast! Every family there said that they were going to buy the game. I think that speaks for itself. One member did have a suggestion though, they suggested that the company make a Jr. version, just for smaller children to play together. Regardless, they still loved this edition.
Something I have discovered about North Star games is how they
stand behind their products
. If you lose a piece or something breaks, they will replace it FREE of charge (as long as it is within the first year of purchase). What other game companies do that? Not any that I know of!
The game can be found at
various online retailers
and also in your local stores, like Target, Barnes and Noble, or Toys R Us. The price range I have found varies from $20-$30, depending on the store and whether you pay shipping or not. It is suitable for all ages.
I was provided with this product as part of the 2011-2012
Old Schoolhouse Homeschool Crew
. In exchange for the product, I agreed to do an honest review of the game. The review was not required to be favorable, just honest.