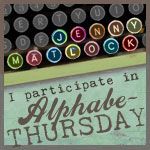 I ran across this blog Meme today, and thought it would be really fun to join in, so here goes...
First of all, the Meme is hosted by
Jenny Matlock
, over at
"Off On my Tangent"
.
Today's letter is R...
R, puts me in mind of
RELATIONSHIPS
...
I especially love sibling relationships!
All four of my kiddos together
Middle Brother, Little brother
Oldest & Youngest
Brother & Sister
My brother and I...
Then, there is the special relationship between a father and daughter...