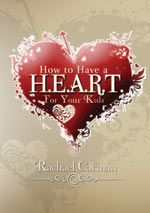 You might look at the title to this cute little hardcover book, and say "I have a heart for my kids, I love them more than anyone could know". Yes, of course you do. But, something in you will say "Wait, is there something I am missing? Is there a part of me that could do better?". Let's face it, even if we are the most amazing, attentive, doting parent on the earth...we have room for growth. Enter author Rachel Carman and her book on "How to Have a HEART For Your Kids".
When I first saw this review come up, I was honestly surprised to see it come from
Apologia
. I mean, isn't Apologia that science curriculum company. WHY YES, it is! BUT, it is so much more than that! Apologia not only has their wonderful creation based
science curriculum
, they also have other divisions such as
Apologia Academy
(Online Courses Based on Truth),
Apologia Live
(Celebrating the Homeschool Journey),
Apologia World
(Reaching the Homeschool Community),
Apologia Mission
(Giving, Going, Sharing, Sowing) and then there is the division this book came from,
Apologia Press
(Resources for the Heart and Mind).
Now, back the the book at hand. When the book arrived, I was pleasantly surprised that it has a nice hardcover, and is a good size to carry along with me, even in my purse. The book is about the size of a 5x7 picture and is about 3/4 inch thick. The first thing I did was flip the book over onto the back to read a little snippit about the book. It says:
"How well do you really know your kids? What has God shown you about who they are and who they will become? He has sent these children into your home at this specific time for His glorious purposes. Indeed, you have been invited on the adventure of a lifetime, a journey on which you will see walls fall, seas parted, and giants slain. You don;t need special skills or training for this journey----you need only to seek God and hold tight to His mighty hand!"
The author, Rachael Carman, is a homeschooling mother of seven. In this book, she walks us through her own journey of parenting and educating her children. She presents the book with the word "heart" as an acronym:
H- Have a heart for the things of God
E- Enrich your marriage
A- Accept your kids
R- Release them to God
T- Teach them the truth
The book draws you in from page one. (You can actually read the introduction chapter for free,
here
.) The author tells us how she did not start out with a plan to homeschool. When speaking of homeschooling mothers she met, she actually tells us "...I feared their poor kids would become socially inept outcasts, unable to work with others or solve conflicts." She goes on to tell us how those opinions were to change and change her whole family. I laughed as I read along, because I *too* used to be one of "those" people who claimed I would never homeschool, and was all too quick to feel sorry for those "poor homeschool kids".
Reading through this book was not painless. Now, don't get me wrong...the pain I speak of was the kind of pain you get when you get your toes stepped on. When you feel that conviction that you have an area that needs some serious attention. This is the good pain, the pain that causes real change in our lives and those of our children. The pruning that causes good fruit to be produced. Immediately it is apparent that if we are going to really have a "heart" for our children, we have to have our own hearts right. As Rachael says in the book, and has been said many times before, when it comes kids, "monkey see, monkey do". Scripture is used throughout the book to support the ideas. At the end of each chapter is a little "Heart Check Up" that presents questions to you, the reader, in order to allow you to dig deeper into yourself and make the changes that need to take place to have a better heart for your child.
As I was reading this book, I came across many situations where other mothers were "venting" about challenges they had with their children. To them I would say "I am reading this book right now and you NEED to read it", knowing it would help them in their journey. After I finished the book, I was tempted to loan it out many a time. One incident I clearly remember is a young lady at church saying that she was "interested in homeschooling, but not sure yet that she wanted to". This is a young woman with a toddler and a baby. I thought "Boy, I wish I had this book when my children were that age, what a difference it could have made in my life and theirs". So, I told her she should get this book. Then another friend was talking over her challenges with her special needs child, and it touched me because while reading "How to have a Heart", I had my eyes opened to things pertaining my own special needs child and all of the times I cried out to God "WHY OR WHY can't he just do what I need him to do?". Well, it was because I was not fully accepting of him and who he is meant to be. That is not up to me. It is up to God, and it is my job to raise him up to be what God wants him to be. I knew my friend could benefit from this book too. Actually, I think all parents could benefit from this book. Those with young children, those with older children, those who plan to have children. I also think there is purpose in this book for those with grown children and those who are around parents and children.
My husband, who is not a reader and generally not interested in listening to someone read, enjoyed listening to me read this aloud. It helped him through some of the things he wondered about, and challenged him also to grow in his relationship with God and with his children.
All in all this book was an excellent read, and one I will review often. I keep in on my nightstand so I can flip through it again and again. I wish I could memorize it all. It's just THAT good.
The book is only $13 and can be purchased through Apologia
here
.

Disclosure: I received this book free of charge in exchange for an honest review. I was not required to write a positive review, nor was I asked to recommend the product. I am part of the 2011-2012 Old Schoolhouse
Homeschool Crew
, which is a group of homeschooling parents who review products that may be of interest for other parents.